My first post in May 2016 about Mt. Calvary School's history and its closing drew much interest and even today continues to do so. Further, the Mt. Calvary Catholic School Alumni-Forestville, MD Facebook page with its 1.5K members remains active on a daily basis since opening on October 23, 2008. Regardless, of where their live led them, a sincere closeness and appreciation lives on among the families who lived in Forestville, MD, and attended Mount Calvary's school and church.
The following article was written by former Mt. Calvary Student, John Nagy, classmate to my children while they were attending Mt. Calvary and adds his perspective to the times and history in my initial post in 2016.
The School of My Youth: Can It Really Be Closing?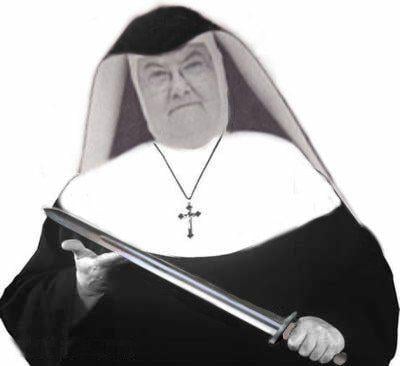 Pennsylvania Avenue runs by the White House and Capitol Hill, but if you follow the road southeast about 8 miles, past the I-495 Capital Beltway, it runs into Forestville, Md., one of those aging urban communities of small brick homes, broken asphalt and weedy sidewalks.
It's not much to look at these days, but in the post-World War II boom years, it was quite the bedroom community for government workers and their families.
If you were on that stretch of Pennsylvania through Forestville, you'd turn left on Walters Lane, and it would run you into the campus of Mount Calvary Catholic Church and School. I haven't been by in almost 20 years, but I see it in my mind's eye as clearly as I see the computer in front of me as I write this.
Last month, the Catholic diocese notified the community that the school would close with the end of school this year. After 66 years, they're closing the old girl down, a victim of dwindling enrollment and dire finances.
Mount Calvary was the school my brothers and I attended first through eighth grades. It and the church grounds were anchors in our upbringing. If you or your siblings went to Catholic school during or before the 1970s, you understand what a loss this school's closing is. It was our second home, the original social network. It gave us lessons — and memories — that live well beyond itself.
Joanne Dickinson, whose husband and three children attended Mount Calvary, wrote a blog post recently with much of the school's history. According to her piece, Mount Calvary opened in September 1950 with more than 400 students, most coming from about a five-mile radius of the Maryland towns that bordered downtown Washington.
At its height, in the early 1960s, there were more than 1,600 kids enrolled — versus 19 nuns as faculty. The Sisters of Notre Dame ran the school and governed classrooms with metal yardsticks. In the early 1960s, there is a picture of Sister Gabrielle, principal, in full habit. She's holding a sword and wearing a look like she's daring you to chew gum in class.
Corporal intimidation aside, Mount Calvary's quality of education, compared with the turbulent and uneven public school system, was top-notch. Andrews Air Force Base, just a few miles away, sent as many as three or four Air Force-blue school buses of kids each day.
The nuns' severe habits gave them an alien quality, and the off-limits nature of their convent next door was the Mother Ship. But no one forgets their nuns. Sister Iris was my first-grade teacher, a gentle soul. Poor Sister Iris. The first day of school, she had to deal with Michael Phillips, who cried the entire day.
Second grade was Sister Generosa. Ours was a combined class of second- and first-graders. On the first day, Sister Generosa caught me doing a jumbo-piece jigsaw puzzle designated for first-graders. She yanked me by the ear and hauled me back to my seat.
"That is a FIRST-grade puzzle," she brayed. On the walk home from school — many of us walked to and from school — someone asked how my new nun was. "She's no Sister Iris," I lamented.
One day, I was teasing a buddy by kicking his book bag under his desk. Sister Generosa stormed down the aisle, with me in her sights, and drop-kicked my Mount Calvary green and yellow canvas book bag down the aisle. But her go-to discipline was throwing chalk at you. And if an eraser was closer, you had a good chance at getting one of those chucked at you.
Mount Calvary was a family unto itself. Those of us who went to school eight years together knew each other's families as well as our own. Some of these families had eight or nine kids, so it wasn't unusual for a Mammano or a Piazza to be in virtually every grade. We knew others' brothers and sisters like our own.
The campus centered our lives. On the last day of school each year, we couldn't wait to bolt out of classrooms. By the weekend, we'd be back up at school, playing baseball on the scraggly field or hitting tennis balls against the three-story brick wall in back. And since no one would ever mess with the recess or dismissal buzzers, they'd go off all summer long.
Labor Day night had its own ritual. School always started the next day, so that was the night we laid out our green slacks and white dress shirts — changed in the mid-'70s to gold polo shirts — and green ties. Girls had their jumpers and white shirts with Peter Pan collars, but the older girls could wear skirts instead of jumpers. Once every couple of months, the school would hold "free dress day." We were almost unrecognizable to each other out of uniform.
Since the school had no cafeteria, we brought our own lunches. Every day at morning recess, Mrs. Lozier would sell soft pretzels, a nickel at first and then later 10 cents. Once a month, we could buy a hot dog lunch. For $1, you got a hot dog, bag of Lay's chips and a glass bottle of Coke with a paper straw. To this day, I can't smell hot dogs boiling in water without recalling these special lunches.
The school's general-purpose auditorium, known as the Blue Room for the color of its cinderblock walls, was our foul-weather gym. The school's drama club would host elaborate productions in this room of classics like "Scrooge," "The Wizard of Oz" and "The King and I." We acted in costumes hand-sewn by volunteer parents and played to full houses over three nights.
In "The King and I," I had the role of Wicked King Simon Legree in the play-within-the-play. In "Scrooge," I had to play a merry partygoer and dance with my girl partner, whose name now eludes me. I remember her being cute and quite a good dancer, which unnerved my 12-year-old self on both counts.
Downstairs was a lower hall for smaller school gatherings like book fairs and the weekly Saturday night bingo games. My grandmother spent many a night working her cards in that smoke-filled room.
So many fleeting memories: the hallways that always smelled of sour milk and sprinkle-on disinfectant cleaners; recess on the massive asphalt parking lot out front, where the boys played football and the girls sat on a brick wall; fundraiser kits of wrapping paper and greeting cards that we'd carry home in cardboard boxes; giant film projectors wheeled into classrooms; Brother Francis, who had his own "board of education" with air holes, and had no reservation about making an example of you in front of the whole class; Mrs. Dennant's neat and orderly library; Mrs. Herron, who taught us eighth-grade math and wore rosaries like necklaces. She would get our attention by ringing a service bell on her desk — except for the day one of the girls stuffed it with paper.
I was the only one in our family not to graduate from Mount Calvary. We moved at Christmas to Florida in the middle of my eighth-grade year. In Florida, I attended public school, wore what I chose, and didn't fear the teachers or the academics. I was miserable.
Whenever any of us would go back to the old neighborhood, we'd always make a point to go by to see the school. Some nights in my dreams, I'm back there again, running around at recess or walking through the halls on my way to class.
In Latin, "alma mater" means "bounteous mother." It was later meant to convey someone or something providing nourishment. Mount Calvary, old girl, that about covers it for you.
About 35 years ago, an industrious music teacher wrote a theme to Mount Calvary. One verse went like this:
Your green and gold throughout the year

Remind us of our friends and times we've spent.

We are proud of all you represent.

Mount Calvary, Mount Calvary, may you forever be

A symbol of our Christian love and friends in unity.
That's fine and all, but I prefer the song — passed down to me by my brothers more than 40 years ago — that some clever, discipline-challenged lads came up with.
We are proud, we are bold of the liquor that we hold

In the cellar of Mount Calvary School.

So run run run. I think I hear a nun.

Grab all the liquor you can hold.

If she grabs you by the ear, say, "Sister, Have a beer!"

In the cellar of Mount Calvary School.

John Nagy, Former MCS Student and Editor, "The Pilot"